The event planning industry is growing at an incredible rate, with more people than ever seeking out event planners to help them plan their next big celebration. Despite the growth, mistakes happen, and they can seriously impact an event's success. To help avoid them, we've compiled the "top mistakes to avoid when planning an event" checklist.
Planning an event can be challenging, regardless of its size and type. Whether you are planning a small birthday party or a large-scale corporate conference, there are several factors to consider and mistakes to avoid. In this blog, we will discuss some of the top mistakes to avoid and important things to consider when planning an event to ensure that everything runs smoothly and you achieve your desired outcomes.
1. Lack Of Clear Goals And Objectives
One of the most common mistakes Atlanta event planners make is failing to establish clear goals and objectives for the event. Without clear goals, it is difficult to determine the event's success and make necessary adjustments. Before planning your event, take some time to establish your goals and objectives. Ask yourself what you hope to achieve, who your target audience is, and what actions you want attendees to take after the event.
Having clear goals and objectives for an event will make planning easier. It will also provide you with a road map to follow and ensure you don't fall off track. Goals should be specific, measurable, achievable, relevant, and time-bound. They should also align with your company's mission and values, if possible.
Following are some questions to ask when planning an event to determine your goals: Why is this event taking place? What are the key things attendees should walk away with? Your goals should reflect your organization's purpose and align with your core marketing strategy. By focusing on this, you will achieve the most successful event while staying true to your brand's identity.
Having a clear goal will also encourage employees to work harder and feel more connected to their organization. You can do this by sending out surveys to attendees or holding debrief meetings with your team. It is also a great way to measure success and adjust for future events.
2. Not Establishing A Budget
Another common mistake when planning an event is not establishing a budget upfront. Without a clear budget, it is easy to overspend or underestimate costs, leading to financial problems later on. When creating a budget, consider all expenses, including venue rental, catering, entertainment, decorations, and marketing. Be sure to leave some room for unexpected costs.
The budget should include all the necessary aspects of the event, such as labor costs, location, catering, planning, and vendors. This will make it easier to create an overall plan and set a clear process for sticking to it. This also makes it easier to reallocate money based on unexpected costs that may emerge throughout the planning process.
Don't forget to add descriptions to each item in your budget so that others can know what it is and why it is needed. It's especially important if you're submitting the budget to someone who may not be directly involved with the planning.
3. Failing To Secure The Right Venue
Choosing the right venue is crucial to the success of your event. However, many event planners make the mistake of selecting a venue without considering factors such as capacity, accessibility, and parking. Before choosing a venue, consider your target audience, the size of your event, and the type of experience you want to create.
Choosing the right venue is one of the most important steps for planning an event. It will determine the quality of the event and its overall success. Failing to secure the right venue can lead to a bad reputation for your organization and can seriously impact your event's success. Luckily, there are several things you can do to avoid making mistakes in this area.
A good start is to conduct a risk assessment. This will allow you to identify all possible risks that could affect your event. It will also help you prioritize them and mitigate them. For example, you might want to ensure that your venue is equipped with a security guard or police officer.
The last thing you want is to be forced to move your event because of a safety issue. This is why it's important to take the time to do your research before booking a venue. Ideally, you should ask for references from previous clients who've worked with the venue in the past.
4. Not Marketing The Event Effectively
Marketing is key to attracting attendees to your event. Many event planners make the mistake of relying solely on word-of-mouth or social media to promote their do-good events. However, there are many other effective marketing channels, such as email marketing, paid advertising, and influencer marketing. Create a marketing plan that targets your desired audience and considers your budget.
Effectively marketing your event is an essential part of successful event management. This is because it can help you attract attendees, sell tickets, and generate interest in your event. It's important to choose the right marketing channels for your event and create content that will resonate with your audience. This can include creating a website, running online ads, and creating social media posts.
Another important aspect of effective event marketing is creating a good event timeline. This will help you to promote your event at a consistent pace throughout the lead-up to the event. This will help you to pique your attendees' curiosity and draw them to the event when it's time to register. It also helps to ensure that your event is well-planned and organized.
5. Underestimating The Importance Of Event Logistics
Event logistics, such as scheduling, transportation, and staffing, are essential things to consider when planning an event. However, many event planners underestimate the importance of these logistics and fail to arrange them properly. Create a detailed schedule, hire enough staff, and plan for transportation and parking to ensure a smooth event day.
Logistics is a critical aspect of event planning that needs to be considered in detail. When not addressed properly, logistical issues can ruin the entire event. The right event logistics plan helps ensure the smooth execution of an event and amplifies the event's overall effectiveness. It also provides a seamless and enjoyable experience for attendees.
Whether it's a small party or a large corporate event, event logistics are important for the success of any occasion. It can be easy to underestimate the importance of logistics while outlining the steps for planning an event, but they're essential for a successful outcome.
Event logistics encompass a variety of factors, including venue selection, transportation, signage, and more. They can be tricky to manage, but with careful forethought and thoughtful implementation, they can help ensure a stress-free and successful event.
6. Not Preparing For The Unexpected
Even with careful planning, unexpected issues can arise during an event. Failing to prepare for the unexpected can lead to chaos and a negative experience for attendees. Create a contingency plan that includes solutions for common issues, such as inclement weather, technology malfunctions, and unexpected cancellations.
As an event planner, it's not uncommon to find yourself faced with the unexpected. From weather-related emergencies to wars abroad, plenty of things can go wrong, and you'll have to figure out how to deal with them. Having a plan to handle the unexpected is essential for the well-being of your guests and staff and your bottom line. Having an emergency fund, insurance, and a budget will make your life much easier when things get out of hand.
Taking the time to plan for the unexpected can be tricky, but it's worth it in the long run. By ensuring that you and your team are prepared for any eventuality, you can rest assured that you'll be able to pull off the best event possible without the stress or hassle. For the real big daddy of all do-good events, be sure to list all your most important tasks and stick to them! You may even want to assign an extra team member to ensure everything goes smoothly, if not flawlessly.
7. Forgetting To Follow Up After The Event
After the event, it is essential to follow up with attendees, sponsors, and vendors to thank them for participating and gather feedback. Many event planners forget to follow up after the event, which can damage their reputation and prevent future opportunities. You can send a thank-you note or email with a survey to gather feedback and analyze your results to improve future events.
In your follow-up email, include a few positive messages about the event to create an emotional connection with your attendees and increase loyalty to your brand. It's also a good idea to include a group photo or video from the event, inspiring attendees to share it with their social media followers.
Also, one of the most important steps for planning an event is to get feedback from your team and vendors about what went well and what didn't. This can be done via a survey or discussions during your event debrief session.
8. Not Considering Accessibility And Inclusivity
Accessibility and inclusivity are crucial to creating a positive experience for all attendees. Consider wheelchair accessibility, ASL interpretation, and diverse representation when planning your event. Many event planners make the mistake of not considering accessibility and inclusivity when planning their do-good events, which can lead to exclusion and discomfort for some attendees.
With 1 in 6 people in the world living with a disability, accessibility and inclusivity are essential things to consider when planning an event. Doing this will ensure all guests have a positive experience and truly enjoy the event.
Incorporate accessibility into every stage of the planning process: Start with your venue selection and include ADA compliance measures in your standard "planning an event" checklist. Create a system to track ADA accommodation requests within your event software, and make sure to include accessibility information on your website's FAQs.
It's also important to ensure that your event's program content is inclusive, ensuring speakers and entertainment represent diverse identities. Select materials accessible for visually impaired attendees, including PowerPoint presentations and handouts in large print or braille.
15 Questions To Ask When Planning An Event: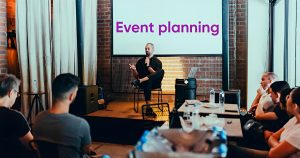 Planning an event can be daunting, but asking the right questions can help you stay organized and ensure everything runs smoothly. Here are some questions to ask when planning an event:
What is the purpose of the event?
What is the target audience for the event?
What is the budget for the event?
What is the date and time of the event?
What is the location and venue for the event?
What is the theme or style of the event?
What is the desired outcome or goal of the event?
What activities or entertainment will be included in the event?
What catering options are available?
What transportation and parking options are available for attendees?
What technology or equipment will be needed for the event?
What staff or volunteers will be needed for the event?
What permits or licenses are required for the event?
What security measures will be in place for the event?
What is the contingency plan in case of unexpected issues?
Asking these questions can help you create a detailed plan for your event and ensure you cover all the necessary steps for planning an event.
Conclusion:
In conclusion, planning an event can be challenging, but avoiding these common mistakes can help ensure a successful and memorable event. Remember to establish clear goals and objectives, establish a budget, secure the right venue, market your event effectively, plan logistics, prepare for the unexpected, follow up after the event, and consider accessibility and inclusivity. By following this "planning an event" checklist, you can create an event that meets your goals and exceeds expectations.
Visit for more best articles